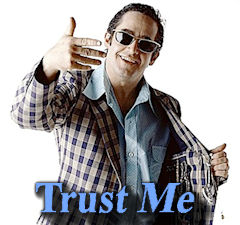 The Grifter-in-Chief
___Normally, I don't get into politics on this forum --- religious topics are touchy enough for my limited capacity for controversy. But the "End of the Age" and "Appeal of Authoritarianism" topics above seemed to have some tie-in to the interests of semi-religious Deists, in that they indirectly question the role of God in history. Are the up & down cycles of war & peace due to interventions by God, or are they inherent in the Chaotic foundations of Physics? Is naive trust in charismatic leaders and in god-ordained sovereigns a part of God's plan for the world, or simply a sign of incomplete evolution of the human forebrain? So, I thought a discussion on the implications of having a highly-successful con-man in a position of world-class political power might also be of interest to those of a Deist persuasion. This is a continuation of the "faith & hope" notion in the previous post. Obviously both Faith in some higher power (human or divine), and Hope in a better future (earthly or heavenly) is an essential element of both political and religious systems. In fact some have questioned on this forum whether Deism is "a fit object of faith and hope", as William F. Buckley asked of "utilitarian" democracy, lacking the romance of royalty and the almost magical power of central authority. Deism seems to be the Democracy of religions, that "don't get no respect", but which serves as a pragmatic worldview for thinking people.
___I have just started reading a new book by psychologist, and contributing writer for
The New Yorker
magazine, Maria Konnikova ,
The Confidence Game
:
Why We Fall For It . . . Every Time
. From the cover :
<<The relationship between artist and victim is a delicate dance of duplicity, ambition, desire, and greed. We want to believe in the truth of each con because basic human nature renders us uniquely vulnerable : the deception begins with us and our need to believe in a world that is better --- for us --- than it was a moment before. >>
Indeed, those who believe in an intervening deity must ask themselves why, after all these millennia since Adam & Eve, we still live in a "world of sin and woe". Most bible believers accept the bedtime story explanation in Genesis that the evils & imperfections of the creation are a consequence of the Original Con, when Satan convinced Yahweh's innocent two-legged creatures, that they too could have the god-like moral power of discernment between good & evil. Like a
grifter's
cooperative victim, they agreed to bend the rules in their own favor. Since then, humans have been driven by "ambition, desire, and greed" to gain an advantage over their fellow men. They have too often chosen what's-good-for-ME, but devalued what's-good-for-US. Unfortunately, that story presents Satan as the god of this world, and makes Jehovah seem to be powerless to prevent the corruption of creation, leaving Him only one option : to chastise His Chosen People with harsh punishments for giving their allegiance to Mammon.
Grifter : a person who swindles you by means of deception or fraud
Mammon : Riches, avarice, and worldly gain personified as a false god
___However, if you find the binary & simplistic notion of an evil god implausible, you must find another explanation for the defects of humanity in more subtle & complex systems. Konnikova places the blame on inherent imperfections in human nature that apply to all of us to some degree. We like to think of ourselves as rational beings, while in practice most of our thinking is driven by the same basic motives that result in compliant animal behavior. Our pets are conned into doing the bidding of human manipulators with juicy carrots & scary sticks, not with cool reasoning. Likewise, con-artists nudge gullible humans toward the interests of the manipulator with hopeful desires & threatening fears. She likens the Con to stage magic, in which the conjurer takes advantage of the common desire to believe in a magical world that's more romantic than mundane reality. Popular culture typically takes magic for granted, although it tantalizingly hides behind a veil of normalcy. Moreover, most of us tend to be more optimistic & trusting than pessimistic & skeptical, and we prefer to believe that others are guided by the same pure motives that make us good moral people. So, when confronted by a con-man with a tempting story, we tend to assume that his confidence derives from holding the hot cards rather than from poker-face bluffing.
Bluff : 1. To engage in a false display of confidence or aggression in order to deceive or intimidate someone
___Konnikova notes that one of the essential characteristics of a con-artist is the ability to lie with a straight face. She says
<< We feel warm and fuzzy when we've helped someone. We feel shame and guilt when we've lied and cheated or otherwise harmed someone.>>
But the con-man doesn't display those obvious signs of elevated emotion, instead presenting a facade of "nonchalance", of cool.
<< These people don't care; they remain perfectly indifferent to the pain they cause, as long as they remain on top.>>
Which indicates that they are motivated more by greed & ambition, than by the need for social conformance. Some of them can be classified as psychopaths, in that they don't feel the normal emotions of empathy, remorse & guilt. Hence, they don't display the sweaty palms and nervous tics of ordinary deceivers. Yet most
grifters
are merely opportunistic salesmen, not cold-blooded killers. And most successful businessmen manage to compete at a high level, while at least appearing to remain on the right side of the law. Indeed, some seem genuinely empathetic & neighborly even as they pick your pockets. For example Bernie Madoff, of Ponzi Scheme fame, plied his trade for twenty years before his pyramid began to crumble. A few are so clever that they become billionaires, trading on nothing more substantial than dreams, symbols & trademarked names. Yet, their ego & ambition may even drive them to obtain the power & prestige of the highest office in the land. Which, due to the spot-light on public office in a democratic society, may prove to be their undoing.
___Psychologists have long been fascinated by the personality profiles of those who play the Confidence Game. A few, less than 1% of the male population at large, are classified as Psychopaths (sick souls). And part of the charm that lets them get away with their mass murders or swindle schemes may be that they present exaggerated male characteristics of coolness and confidence. Konnikova includes two more labels in her "dark triad of traits".
<< Narcissism entails a sense of grandiosity, entitlement, self-enhancement, an overly inflated sense of self worth, and manipulativeness. >>
Does that remind you of anyone who dominates the news lately? Another common characteristic of demagogues and dictators is
Machiavellianism
. Those deceptive & manipulative traits were considered by a Renaissance political analyst to be essential to the success of kings and other rulers of the herd-like masses. She seems to think that "Machiavellian" is the best label for the typical con artist,
<< who employs aggressive, manipulative, exploiting, and devious moves in order to achieve personal and organizational objectives . . . bluff, cheat, bargain, and ingratiate themselves with others.>>
In fact, those methods may be presented in different terms by successful businessmen, such as Gordon Gekko, in the film
Wall Street
, to describe "the art of the deal". Gekko was able to push the envelope of legal restrictions until his need to win at all cost, finally pushed him over the edge and into jail.
Demagogue : 1. A leader who obtains power by means of impassioned appeals to the emotions and prejudices of the populace.
Machiavellian : 1. cunning, scheming, and unscrupulous, especially in politics or in advancing one's career. 2. the employment of cunning and duplicity in statecraft or in general conduct. en.wikipedia.org/wiki/Machiavellianism
___There are several "cons" that seem to go together in the ethical fringes of business, politics, and social media : Confidence, Confirmation, and Conspiracy. Con-artists display supreme self-confidence in order to convince their "marks" of their honesty, even though the average person is seldom so sure of himself. Konnikova notes that most of us, from personal experience with the stress of lying, expect deceivers to reveal themselves with outward signs of guilt : sweaty palms, facial tics, averted gaze, etc. But the artists are atypical in that they simply do not feel those normal emotions when breaking social codes of ethics. Bending the truth is merely a practical means to an end, not a moral violation. Yet their lies wouldn't convince most people, unless the victims found that the story being told agrees with their own belief system. If they already have a bias against immigrants, for example, anecdotes about "those people" taking our jobs will play into the normal human tendency to Confirmation Bias, because it "reinforces their preexisting beliefs". In a
Scientific American
magazine article,
Inside The Echo Chamber
, Walter Quattrociocchi discusses a World Economic Forum report that
<< the viral spread of baseless or false information as one of the most dangerous social trends of this age, on an equal footing with terrorism.>>
This is evident in the recent surge of articles, blogs, and tweets regarding "fake news", and implications that news media and government institutions are not to be trusted. Such conspiracy theories used to be the substance of a few wing-nuts, but they are now employed as diversionary tactics by the Grifter-in-chief, who wants you to believe only what he tells you. His regular use of "trust me" and "believe me" may be signs of a con-mind at work, as attempts to give a false sense of sincerity.
Confirmation Bias :
en.wikipedia.org/wiki/Confirmation_bias
___The tendency to trust your fellows is normally a good attribute for social animals. But human experience teaches us to watch for the few that will take unfair advantage of our belief in the social contract. Konnikova says that a trusting nature has personal benefits too.
<< People who are more trusting are more likely to start their own businesses and volunteer. And the smarter you are, the more you are likely to trust . . . a strong positive relationship between generalized trust, intelligence, health, and happiness.>>
She gives evidence that a modicum of self-deception seems to allow people in competitive situations to achieve more success than their more realistic competitors. Then she concludes that
<< The irony is inescapable. The same thing that can underlie success can also make you all the more vulnerable to the grifter's wares. >>
Which is why it's wise to be alert to anything that seems too good to be true.
<< It wasn't the people who saw the world most clearly who did best; it was, rather, those most skilled at the art of seeing the world as they wanted it to be. And the world-as-we-want-it-to-be is precisely what the con-artist sells. >>
Which may explain why Madoff, and other Wall Street scammers, can get away with ripping off successful "marks", by simply telling them what they want to hear in a manner that seems plausible. Smart & rich people are more likely to be taken in by an artistic Big Lie than the crude little white lies of ordinary folks.
Big Lie : a propaganda technique. en.wikipedia.org/wiki/Big_lie
___Some Deists have expressed the feeling that they have been conned, not by street-hustling materialists, but by those who sell beautiful stories of spiritual rewards for the hoping & trusting faithful, who endure temporary disappointments in real life, in order to qualify for eternal rewards in an ideal afterlife. As a matter of fact, religious and political loyalists are ripe for the picking by those who preach the gospel of Faith & Hope. Even so, a bit of unsubstantiated faith is necessary for belief in an invisible deity, working incognito, disguised as Mother Nature. Yet, faith-based preachers & politicians often sell you a "bill of goods" that may never be delivered. And faithful believers sometimes buy a "pig in a poke" that turns out to be a stray cat. So, the best defense against con-men of all stripes may be to adopt the attitude of "show me" scientific skepticism as a firewall to protect your vulnerable core of innocent hope & trust against strange men offering mouth-watering candy, or a free trip to heaven.